I'm starting to get in the festive spirit so a packet of Mr Kipling mince pies caught my eye as I was food shopping the other day. I thought about buying the no doubt exceedingly tasty cakes until I remembered the British Hen Welfare Trust's feather campaign   and … didn't.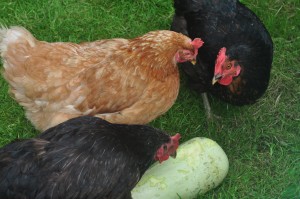 You see the charity is trying to persuade the cake maker to stick to its previous promise of providing exceedingly good 'free range' cakes. I keep chickens myself and know how much these very social creatures like to forage. I just can't bring myself to buy from a company that can't guarantee free range only eggs in its products; so I decided that this was a perfect excuse to have fun making some very good cakes at home instead.
First off I turned to my trusty River Cottage Preserves Handbook and a recipe for apple, ginger and pear mincemeat that I fancied trying out.
I've got some very sorry-looking apples that I picked from my garden this year, which have been lounging in the warmth of the front room these past months. As I haven't got round to storing them properly (somewhere cool), they've turned from crisp and plump to sunken, wrinkly and well past their best.
Still at least they had a nice time of it and this will be a perfect way of putting them to good culinary use.
Apple, ginger and pear mince pies – the low down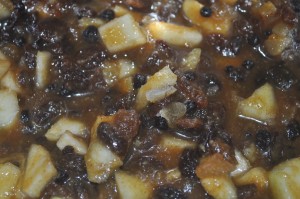 I'm going to follow the lovely River Cottage recipe for mincemeat using the ingredients I have to hand and that I can get from my local shop, so I may off-road a little. I've also halved the original as this will make more than plenty for us to scoff before and over Christmas (about 30)
I was unable to buy any oranges so instead used several satsumas to provide me with the 100 ml of juice required. To this I added about 500 grams of my poorly-stored apples (which are a random collection of cooking and eating apples). I peeled and sliced them before putting this mixture on a low to medium heat for about 15 minutes until the fruit softened and using a hand blender (as my food processor was packed away in another room), I transformed it into a lovely puree.
I then poured this into a bowl, adding in the other ingredients outlined in the original recipe. So 50g crystallised stem ginger, 250 g of firm pears, peeled and chopped into small pieces, 50g of orange marmalade, 125g demerara sugar, ¼ teaspoon ground cloves, 1tsp ground ginger, 1tsp ground cinnamon and ¼ tsp nutmeg grated. I didn't have the ginger wine suggested and my local shop only sold a dried fruit mix (with currants sultanas, raisins and mixed peel) so I added about 250g of this. Not having any fresh orange peel, I also added an extra tablespoon of the orange marmalade for good measure. I also left out the almonds suggested and added a couple of early splashes of brandy because it's Christmas and why not!
I gave the mixture a good stir, covered it with a tea towel and left it to sit overnight.
The next morning I put the mixture in a baking tray and as recommended cooked it on a very low heat (130 degrees C/ Gas Mark ½) for about 2 hours.
When done I stirred in the recommended amount of brandy (about 25 ml) and had a taste; yum, really, really good.
Making the pastry
I prefer short crust for mince pies and it's so incredibly easy to make yourself at home. To make enough for a large batch take a packet of unsalted butter out the fridge and cut it into small pieces over a bowl. I use about the same weight of four to butter and I'll be using spelt which is my lower in gluten flour of choice. I'll also add an egg yolk here (organic, free range) to help it bind.
See here for more on making shortcrust yourself.
Then it's simply a case of greasing your baking tray (I always use butter), cutting out and filling your pastry cases and cooking (180 degrees C) for about 15 mins if you're going for an open topped pie which is always my preference. Less fuss, more filling, equals even tastier in my book.
However if you're going for a more traditional pie then add an extra 10 mins until the pastry topping has turned a light golden. Then serve with a light dusting of icing sugar for a fantastic (and truly free range) festive treat.
Bonus recipe   – apple and blackcurrant frosted pies
I've got masses of blackcurrants in the freezer and more wrinkly sorry-arsed apples so this'll be a lovely way of using them up.
Opening up a big bag of frozen blackcurrants in the midst of winter with the rain pouring hard outside (again) really is a delight. You should do it even if you're not planning to cook with them right now. The smell alone is like a burst of summer past and a reminder of the promise of summer to come. It's glorious.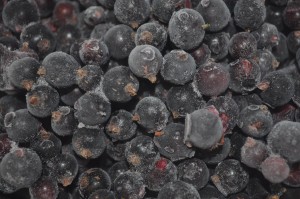 First off as I figured out a recipe, I decided to make some jam which'll provide me with both a base for the pies and well, jam funnily enough, which I can squirrel away (and maybe sniff repeatedly) till it stops raining.
I take about 2 pounds of frozen blackcurrants (stalks and leaves thankfully removed already) and pop them in a saucepan along with a little water (about 500 ml) and cook on a medium heat (4). To this I swiftly add the remaining apples (four small – mixture of eating and cooking I'd imagine) and the lonely pear I have left over from the first recipe.
I let this simmer away for about half an hour till the fruit has visibly softened and then I take it off the heat and stir in some sugar. I don't have caster sugar and anyway I fancy something richer so instead use about 300 grams of the demerara I have left from the first recipe. It's a tiny fraction of the sugar you're supposed to use for jam but I always find jam far too sugary and love the tartness, so I'm sticking with this. If this is too much for you, then I suggest just keep adding sugar according to your own taste. Anything less than the same volume of sugar to fruit and it's probably best to keep it in the fridge and use within a few months (which is a task I know but one I'm sure we'll all manage).
Next, boil hard (removing any scum off the top) for about 20 mins or until the jam has reached what is known as the setting point. The best way to tell is to plop a bit on a cold plate (from the fridge) and to see if it's still runny or not (in which case it's ready). Doing so is also a perfect excuse to keep licking the plate because you're a jam chef and hey that's your prerogative.
Sterilise your jam jars, safely stash away the majority of your booty (this made 5 small jars with a bit over) and then you're ready to get baking.
I love the summer tartness of the fruit jam in these mini open pastries so they have been simply adorned with a lemon icing frosting (or drizzle) which provides a suitable sweet festive finale.
To make the lemon icing
Simply squeeze the juice from half a lemon into a bowl and add icing sugar until it forms a consistency that can be slowly dribbled off a knife and over your pies. Grated (unwaxed) rind is also nice sprinkled over the top
Exceedingly marvellous….