Kim Stoddart explains how to produce some of your own savvy seed for free…
Even though seed saving used to be a firm part of the gardening calendar just a few generations ago, this worthwhile activity isn't utilised as much as it could be. With climate change extremes of weather hitting us all hard, saving at least a little bit of your own supply is an increasingly sensible option, as doing so means you can choose to save from produce which have shown greater resilience and therefore help create future plants more adapted to your individual grow your own space.
In the process you can also bag yourself some excellent cut flowers for free (see this fennel bloom pictured).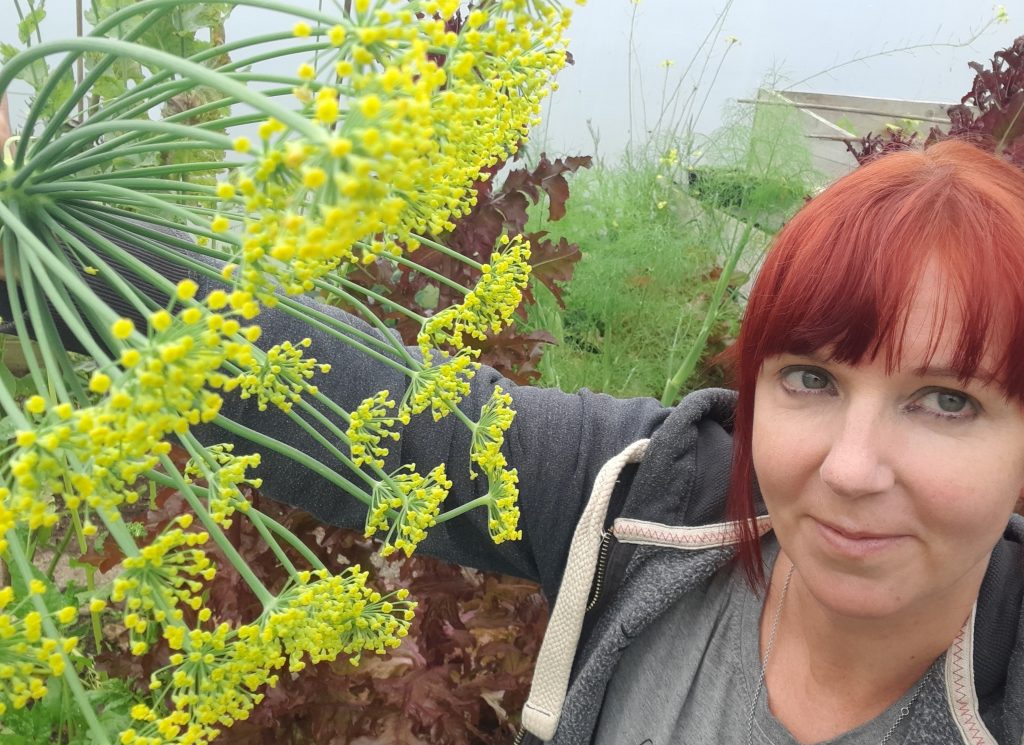 Of course saving all your own seed wouldn't be any fun (at all). It would be hard work and a bit all consuming, believe me I tried when I gardened for free for The Guardian back in 2013. However, there are many plants that are really straightforward with which to work:
Produce to save seed from now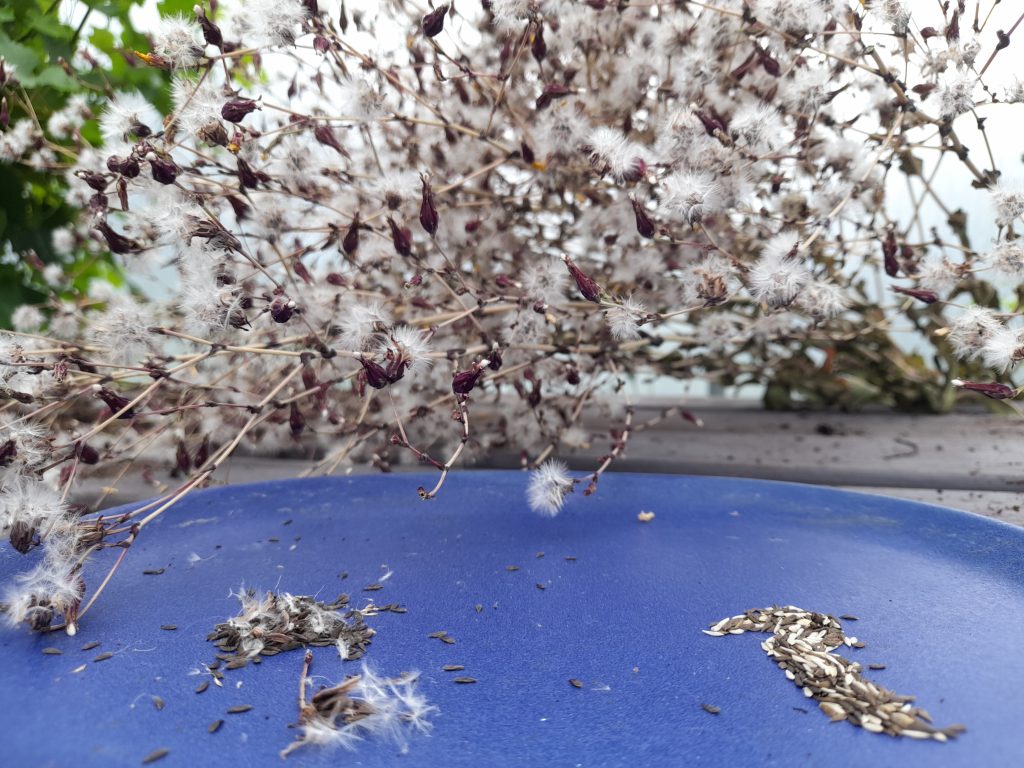 Lettuce and rocket (lettuce pictured)
Both will produce very pretty little flowers and as long as the weather is dry, these salad leaves will merrily reward you with lots of lovely home saved seed. Simply leave the seed heads on a warm windowsill to dry (after picking) then store away for next year.
Top Tip – If the weather becomes wet then it is best to remove the seed head from the plant that bit earlier to avoid it going mouldy. Or, save seed from plants in pots that can be brought inside.
Radish
The same principles apply, except this plant produces lovely pods packed full of seed and one plant will reward you with an amply supply.
Peas (and French beans)
Easy peasy indeed (unlike some other members of the legume family which can cross with other varieties). These two are reliable to work with.
As with all seed saving you need to select a healthy, productive plant without any disease or weaknesses so that the resulting seed will be as resilient as can be. You can also choose plant traits you like, so if a pea has shown to be especially good at coping with drought, that's a great one to select.
Leave the pods/beans on the plant to fatten up as much as possible before removing from the casing, drying out and safely storing away.
Coriander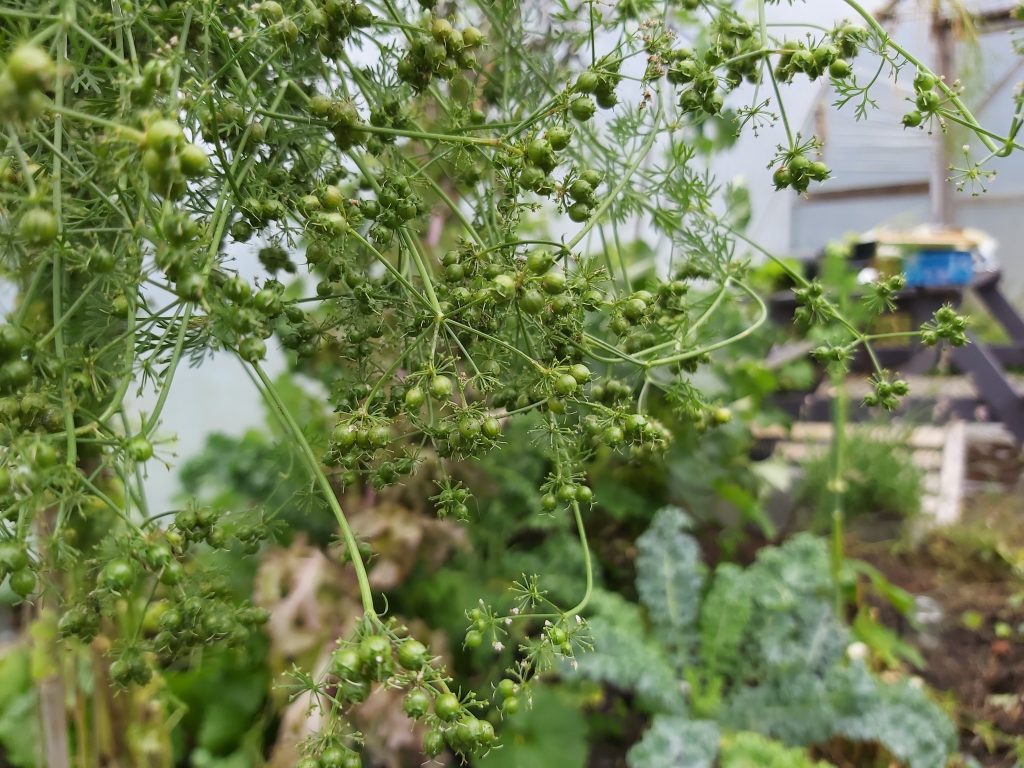 This lovely zesty herb will bolt up and flower to set seed at the first opportunity so why not let it. Again, as with any plant, try and avoid working with any which bolt first before their peers, as that isn't a tendency you don't want to encourage. 
Top Tip – The resulting seed is also edible in cooking and as coriander is actually rather hardy and will overwinter under cover, you might want to germinate some of the seed to have on your kitchen windowsill. It will thrive in a sunny spot till spring.
Tomatoes and chillies
These generally won't cross with other varieties so are good to save from. If chillies do cross they just get hotter so that's not a problem for lovers of heat. Just remove seed from the fruits and leave in a warm spot on a piece of paper before sorting away.
Tomato seed saving often comes with very exacting instructions about fermenting the seed to remove the jelly-like coating surround. You can do that if you like, but it's a bit of a faff and in my experience surplus to requirements anyway. I prefer to just stick some seed on cardboard or kitchen roll and let it dry out before storing away.
……..
Produce to leave in the ground for seed saving in spring
Parsley
Another good herb for overwintering. It has a really good ability to stand firm against the colder weather and come spring (as a biannual) it will shoot up to flower and set seed. As parsley can be a tad fiddly to germinate from seed normally, this is really good plant to work with as the home saved seed will more readily spring to life. I just shake the seed on the ground in the surrounding area for lots of lovely seedlings in return.
Leek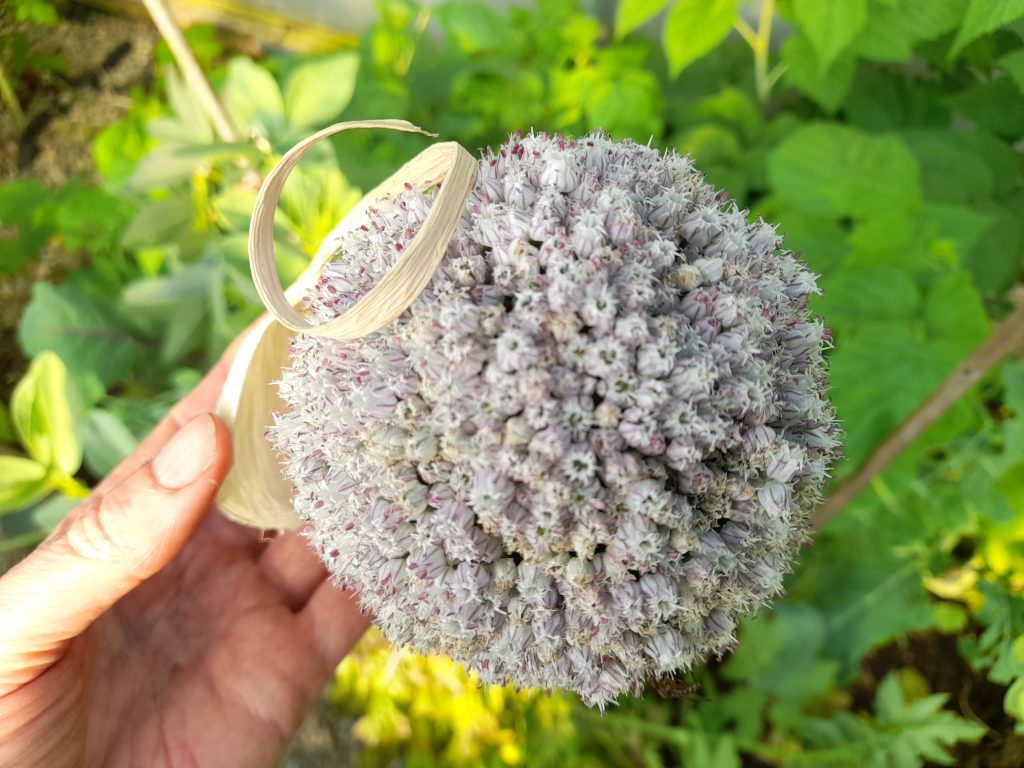 It would be worth leaving at least a few stems in the ground anyway if only for the stunning flower heads leeks produce which are much loved by gardeners as well as a wide array of pollinators such as bees and butterflies.
Although you won't receive any giant vegetable awards for the resulting veg produced, it will furnish you with lovely smaller leeks which I happen to think are much tastier and nicer to cook with anyway.
…….
Seed you can't save from
The only exception to all of the varieties listed is that you can't work with produce which is F1. This will be labelled on the seed packet if it is, and as that means the seed has been produced from different mixed parentage, seed saving isn't reliable so needs to be avoided in that case. Otherwise you are good to merely save and grow.
…………..
Kim Stoddart is running some growing food over winter courses now from her training gardens in gorgeous Ceredigion, West Wales. There are just a few dates left with availability see here. The day includes plants to take home and a copy of Kim's Climate Change Garden book.