I wrote a wee while back in my Guardian blog about kicking back and letting plants grow on more than you might do otherwise. Well, these past weeks I've been having fun discovering some whopper vegetables as I forage through the more overgrown areas of my plot. These hidden giants have been secretly putting on some mightily impressive bulk behind the leaves of the plants around about and over them.
I've felt a bit like an adventurer as I rifle through the undergrowth, coming across a huge cucumber here and a mammoth radish there. These bonus vegetables have been a most delightful find and the result of letting some of my plants run a bit rampant (to say the least). They are much more exciting in fact than those that I have seen growing away and known to expect.
So which vegetables can you be an utter slacker with?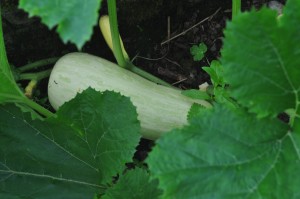 You'd be surprised how laid back you can get with a lot of your fruit and vegetables once they're established enough. Even more delicate and sun-loving plants like tomato, chilli and peppers will hold their own in healthy soil amongst a variety of leafy neighbours.
More overgrown conditions will invariably mean more dastardly slugs and snails so lettuces in particular are more vulnerable to getting a bit munched, as are cabbages. Slug surprise anyone?
However, anything that grows up and tall tends to be absolutely fine so rocket, peas and beans, kale, sprouts, chard, spinach and the like can do very well indeed in crowded     conditions.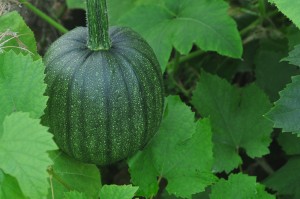 Perhaps the easiest plants to utterly neglect are the squashes. You only need to turn your sweet badly behaved gardener back on them for a couple of weeks at this time of year and a slight rummage will reward you with the sight of fantastically bulbous fruits a go go. Winter squashes are the best for this but courgettes and cucumbers are also happy to be left well alone once they've reached a certain size. I like using the smaller fruits for cooking and salads respectively and any whoppers save a lot of faffing about when it comes to preserve making.
Perennials are always going to be king in the slacker gardening stakes because they are about for the longer term and not all flighty and high maintenance as a result. My favourites include Jerusalem artichokes, oca, asparagus, rhubarb, all the berries and sorrel. Then you've got herbs, which mostly require little to no attention at all and in return furnish you with some top-notch rustic pizazz in the kitchen.
Lazier gardening lets you get a bit more hunter gatherer and it's absolutely perfect for all busy foodies and big kids everywhere.