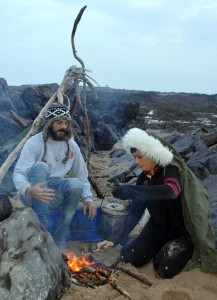 There's nothing new about musicians and pop stars moving out to a large pile in the countryside once they've made it. It's actually incredibly common; Paul McCartney. Robert Plant, Alex James … they've all done it. Former 5ive rapper, Abz Love and his girlfriend Vicky Fallon however have done something altogether different. In the BBC 2 series Abz on the Farm we saw the couple skint and maxing out their credit cards in order to follow their quest for self-sufficiency on a mortgaged £142,000 smallholding in West Wales.
But is it for real? Have they really chosen to take such a risk in order to attempt to live off the land, or is it all (as a lot of reviewers have suggested) actually part mockumentary?
Having downshifted myself more than five years ago, I was intrigued. So I met the couple (and Abz's mum) in a café near their home in Carmarthenshire, West Wales to find out more.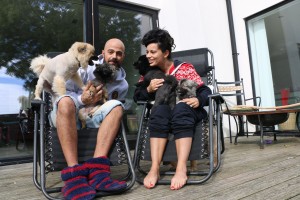 The couple could almost have been made for the programme, which might make viewers sceptical, but they say they didn't sell their story to the highest bidder: they were offered more money to do the series on Sky Living but turned it down for the opportunity to work with the natural history department of the BBC instead. "We wanted to do more than the usual celebrity crap," says Fallon. "We work in an industry that rewards the wrong kind of people and we wanted this to be educational. If we can make people laugh along the way that's great because laughter is good for the soul."
Abz has been homeless and bankrupt in the past and they've both struggled in an entertainment industry that is so fickle. He quit his band late last year and since then has been focusing full time on what he sees as a move into something real. Something that he can depend upon, eventually.  " It's so empowering. I love exploring and being out of the craziness." He explains; "I've had it all; I've been around the world three times, ate at the finest restaurants, met the celebs ..but this is what matters  – learning how to work a little plot of land."
It's worth also mentioning at this point that Abz has Aspergers Syndrome which in his case means he's a perfectionist. He clarifies; "I try and throw myself in as much as I can. I want to see if we can we take it back to basics and live that way forever? If we can't grow something then can we live without it? Maybe even pushing it to the extent of coming off money cos I'm so bad with it."
I've interviewed a lot of smallholders for Country Smallholding magazine and have seen time and time again how an initial desire to make, mend and 'do' everything tends to wane after the first few years. To be completely self-sufficient would take all of your time and energy and people tend to focus more on particular areas rather than trying to do absolutely everything for themselves.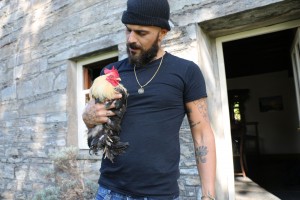 Yet it doesn't mean it's a complete pipedream. The couple have been guided during the series by residents at Lammas, an eco-village in Pembrokeshire where they live entirely off grid in homes they have made for themselves.
Ten months into their new lives – they are still buying most things in; except for the vegetables they have started to produce and eggs from their chickens. But then it's by no means an overnight transformation. It takes time to learn how to do things for free and to see food in a different light. As Fallon says; "I look in my fridge and if it's empty I think I must shop even when I've got a polytunnel full of produce. I'm still learning how to make what we're growing into something delicious and getting over that mental barrier of food coming from the supermarket."
Without internet or TV at the property they've been sitting around a lot in the evenings talking and playing the odd game of scrabble. Their traditional farming neighbours have been fantastic and very supportive as Abz reveals: "They've really got us and what we're trying to do. They don't care who I am or what I am. To them, I'm just a nice guy."
Not everyone in their lives seems to get the dramatic changes they have made however. Fallon explains; "since we moved and started dematerialising, certain friendships have just fallen apart. It might just be a coincidence but certainly when you say that we don't have heating – we've got solid fuel central heating – it scares people off visiting."
I haven't seen their smallholding but we had an in-depth chat about what they've been doing and you can't fake such meaningful enthusiasm and desire to learn new skills. There's a lot more to this couple than you might first imagine.
They're the first to admit they're at the beginning of a very long journey and making it up a lot as they go along but for them that's part of the fun. It's a genuine risk – Abz has made and lost money against his will in the past but this time it's out of choice.  "We're shedding" Fallon tells me; " we've got less material stuff than we've ever had before and yet we're richer because we've got our own water supply, our own wood burner and acres of wood around us so we can always be warm."
What started out partly as a move to enable the couple to be able to afford a home of their own has turned into a quest of a deeper kind, entirely.
"No one's going to listen to me" Love says. "But the way to save the planet is we need to all become responsible for our actions and our interactions with each other. People don't care. If we ran out of chocolate people would be like wait, what? Who cares about the oil and the ozone layer but if there's no chocolate? That's when they kick off when they hear that. The times we're living in people need to take responsibility for the future and that is what we're trying to do…"