I love sushi and I love making it at home. Although I'd definitely say 'goodness me no' to a spot of Japanese blowfish carving; the truth of the matter is you don't need to be a sushi master to make (or indeed James Bond to eat) some of this delightful fare.
Sushi rolls are particularly easy and as long as you have a bag of sushi rice, some sushi nori (seaweed wrappers) and soya sauce then you can improvise with a range of ingredients depending on what you happen to have in.
Sushi rolls – The low down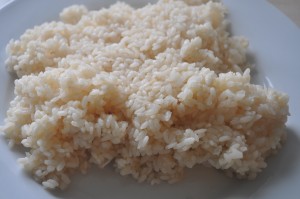 Take your packet of sushi rice ( a 500g bag makes ample for four or a feast for two with leftovers for lunch the next day), pour it into a saucepan (you'll need one with a lid) and give it a quick rinse under your cold water tap; stirring with your hand to help release and pour away the starch.
Cover with water as you would do with normal rice then I'd recommend cooking on a low heat with the saucepan lid on for about 30 mins; simply because sushi rice can catch and burn really quickly if you're not careful so this is easier to work with. Anyway you can do something else whilst it's cooking like stare out the window, learn how to juggle or, i don't know…craft yourself a special sushi making bandana…
Then when there's no water in the pan, take the rice off the heat and let it steam its way to final readiness.
Don't forget to flavour the rice subtly by way of the water in which it cooks. Japanese Mirin / rice wine vinegar is a traditional choice but a few tablespoons of western vinegar (such as cider, red or white wine) will do just as well. Or if you don't have any in you could use the same amount of soya sauce. Or, unless you happen to have an actual sushi master or some ninjas coming for tea (hey wouldn't that be cool?) then why not just off-road with whatever you fancy flavouring the rice with.
Let's get rolling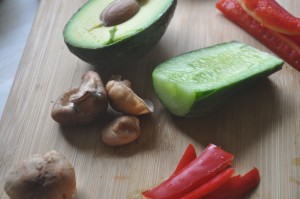 With the rice cooked – now for the fun bit!
The rice will retain its heat for quite a while if just left in a saucepan so your best bet is to turn it out onto a large plate where it'll cool down enough to be touched in just a couple of minutes.
Contrary to popular opinion you don't need a sushi/bamboo matt to do the rolling. I've tried with and without and found that some not very Japanese cling film (or a plastic sandwich bag opened out) works just fine. Just pop a sheet of your seaweed wrapper on the plastic (shinier side away from you) and fill a cup with water and dip your fingers in it before grabbing a handful of rice and thinly spreading it out on the seaweed. You're squashing it down essentially to coat the wrapper with a thin layer of lovely sticky rice.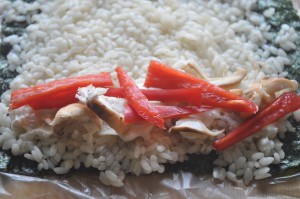 Once you've done that then it's time to choose your filling. Raw fish like salmon and tuna (not blowfish remember – definitely not blowfish) is of course delicious in rolls and on their own thinly sliced (as sashimi) but there are any number of ingredients that also work well.
Cucumber, avocado (with a splash of lemon so it doesn't go brown), sliced mushroom, spring onion, red onion, red pepper, smoked salmon, tuna mayonnaise, crab sticks… You could even try out cooked meats like lamb, chicken, beef; use some chilli oil, wasabi or mayonnaise and again do whatever you fancy. The roll is a blank canvas with which to experiment and find out which fillings work best for you.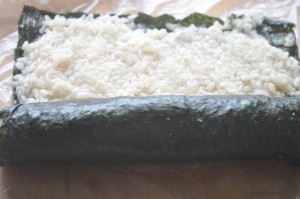 You want a thin layer of filling and then using the plastic (and your fingers) start at the bottom nearest you and simply roll it up leaving the edge facing down.
Using a sharp knife (it helps to wet it a bit) slice thinly and well, that's it.
Sushi is best served at room temperature and the fresher the better.
I like it with a splodge of Japanese wasabi and a dip made from adding half a finely chopped clove of garlic to soya sauce. If you've never tried it by the way trust me on this – it's far superior to just plain old soya sauce on its own. If you're worried about garlic breath than just make sure that everyone you're with that evening has some as well. Job done.
Also worth trying with the leftover rice:
Sushi balls
Simply put a small amount of sushi rice in your hand and flatten it into your palm (remember wetting your fingers with water helps). Then place a small amount of your chosen filling in the centre and clench your fist to bring it all together and enable you to shape this into a small ball.
Squeeze it tightly and it will hold together better.
For fillings I tend to use whatever's left over from my sushi roll making. A nice one is tuna mayonnaise mixed with a splash of soya sauce, a dab of wasabi and spring onion.
Sashimi (raw fish slices)
If you have bought some nice (non- potentially painful death inducing) raw fish for your sushi then milk that mighty fine ingredient and serve it finely sliced – it's one of the best things ever.
Nigiri (sliced fish or vegetables on rice)
Again this is piss easy – simply shape the rice by hand squeezing it tightly into a sort of flat rectangular shape and then place your chosen ingredient proudly on top. Da daa.