In this second blog for us, inspirational lady-farmer, Sam explains how much she enjoys working with local restaurants.
There is no greater privilege for a smallholder like me than tasting your home-reared, much loved, rare breed produce on the menu of a well reputed restaurant.
 I recently enjoyed a spectacular 10 course taster menu exquisitely prepared by Director Chef Chris Burt at The Peach Tree restaurant. Not only was my own rare breed Soay lamb and British Lop pork on the menu but goods from other artisan producers and local foragers also contributed to one of the most delicious meals I have ever experienced.
It has been exactly 2 years since I met Chris Burt as we prepared for the BBC Radio Shropshire 'Plot to Pot' series. He was the first of 7 chefs to cook my pork alongside my home-grown seasonal vegetables in the farm kitchen while recording for radio. 
He was also the first chef in Shropshire to show an interest in using my produce at his restaurant, putting Middle Farm pork immediately on the specials menu. Although a little hesitant about supplying a chef it opened my eyes and indeed changed my opinion to 2 fronts; Firstly, a restaurant can justify paying the right price for a rarer product as good quality chefs know how to show off the difference in flavour to a wider audience.  
Secondly, the success and feedback reinforced my belief in the continuing change of consumer opinion and demand for better quality produce.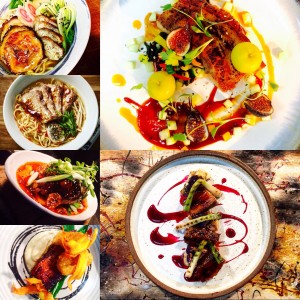 As a small farmer (and consumer) I'm aware that rare breeds are special and should be treated as such. Although often rare for many reasons such as small litters, not enough meat, slow growth rate or too much fat it is seldom because they don't taste good. On the contrary, all the attributes of rarer breeds usually serve to enhance their flavour. 
The experience of this particular taster menu will stay with me a long time. Extraordinary and delicious and so much of it supplied by people I know first-hand, those who take enormous pride in their produce. I am sure that taster menus like this will grow in popularity and I will look forward to contributing to and sampling many more in the future.
 You can find out more about Sam's book at www.givingitupforwellies.com or her holiday cottages at www.middlefarmcottages.co.uk. Sam's also on twitter @middlefarm1 and Instagram: Givingitupforwellies