In this, the first of a new series aimed at showing the inspirational people behind the autism, proud mother, Jackie tells us about her son
Bobby was diagnosed with Autism when he was four. I felt relief, I wasn't a bad mother and he wasn't a bad boy needing discipline (words that had been said to me many times even by family). Bobby was just different; uniquely and wonderfully wired to a different tune.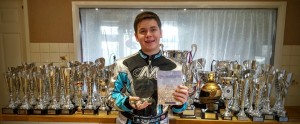 His love for Kart racing was always there. Even from a young age he had hundreds of toy cars and would spend hours playing and racing them. He would build tracks using Lego for crash barriers and the sound of make believe car noises and his laughter filled the house.
Bobby was invited to a Karting party when he was ten but at first refused to participate. It was only when the supervisor came outside and asked if he would like to have a go in a kart when the other children went to eat that he reluctantly agreed.  He won his first race that day and he's been obsessed by the sport ever since.
After winning many races as a junior he went onto scoop the Minimax Novice Championship and The Charlie Parker Memorial Shield for most improved driver at Buckmore Park in 2011 and in 2015 came second in the Dmax National Championships. This year he has secured the Daytona Dmax Endurance Championship and is running a close second in the heats. He continues to win many open races and was honoured to receive The AKO Autism Hero Award for sport recently.
The fact is Bobby's heart sings when he is racing!
At school (a mainstream with additional support) he had to deal with bulling and discrimination not just from other children but also some parents who didn't want their children mixing with the "strange" boy and "catching" his autism. As a result he isolated himself, yet at the same time yearned for the friendship of his peers. He would return home exhausted to seek the solace of his room and the "Playstation" where he would play racing games until the events of the day faded away.
Kart racing has transformed his life.
His focus and determination to be the best racer have also reached into other areas of his life. He has learnt to give interviews, talk to others and make friends with fellow racers. Bobby dreams of becoming a top driver and telling the world what people with autism are capable of.
If the bullies could see him now they should hang their heads in shame.
The fight will always be there, some prejudice will always remain, but Autism Awareness through the hard work of some incredible people is being raised around the world. None will work harder than our loved ones, trying to fit into a world that dances to a different tune. Many like Bobby are capable of so much more with early intervention and finding that song that makes their hearts sing!
You can find out more about Bobby's Kart racing at www.Bobbytrundley.com