So, it's a special occasion, you've made a huge effort baking a cake, so-and-so is just about to arrive, but your cake doesn't say 'celebrate' it says 'half-arsed'.
You, my friend, need the art of 'jooj'.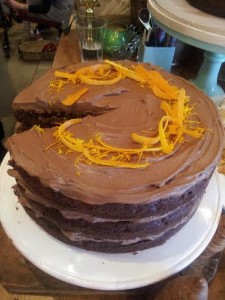 Among other things, the Urban dictionary defines 'jooj' as 'to make something appear more 'put together quickly'.  The Guardian eloquently refers to 'zhushing' and Nigella 'zhuzhing', but in cake making terms, the meaning is the same, to make a cake look pretty awesome in super quick time without hardly any much effort, not at all, no really.
I'm all for making an effort when it comes to the bake – taste is everything – but when it comes to the decoration I'm totally with the minimum effort and maximum impact crowd. So, after years perfecting the art of putting cakes together really quickly, here are my top tips for zhushing.
These suggestions can work on frosted or naked cakes alike.
Bashing – bash up chocolate bars, fudge, digestive biscuits or anything you can lay your hands on that's bashable. The easiest way to bash is to seal whatever you're bashing in a plastic bag (zip lock type), place on a chopping board, and bash liberally with a rolling pin.  Sprinkle liberally.
Piling – add some height and drama by piling up fruit, nuts, chocolate truffles, broken up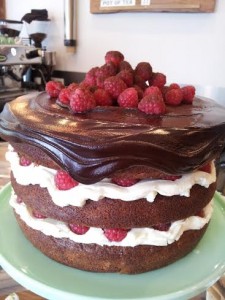 chocolate chunks or anything else into a mound in the centre on the top of the cake.
Inner circle – my go-to jooj – create an inner circle on the top of your cake with whatever you're dressing it with (bashed up fudge or chocolate, grated chocolate, fruit, chocolate shards etc). The inner circle is best about three or four centimetres in from the edge of the cake.  Leave the middle of the cake clear.
Shards – if you have time to think in advance, this is an easy trick to give your cake some theatre.  Melt some chocolate, spread thinly over a sheet of baking parchment. Leave to set, or sprinkle with nut pieces or other things and leave to set.  Break up into 'shards' and stick up in a circle, by pressing each shard into the cake.  Difficult to explain -but really easy to do.
Sifting – this is the easiest of the lot and can be combined with any other form of zhushing.  Icing sugar or cocoa powder are the most common. Use a tea strainer, sieve or anything similar and liberally sift all over, around the edge, in the middle or across in a 'stripe'.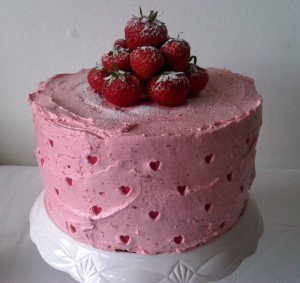 Grating – grated chocolate – that is all.  Works a treat.
Dribbling – use a dessert spoon to dribble anything – lemon curd, chocolate sauce or fruit compote.  Dribble in a circle, in lines, over the edge… It's often easier if the 'dribble' is warmed beforehand, to make it really dribbly.
The art of zhushing lies in the eye and the hand.  The hand must be skilful enough to lightly sprinkle with abandon or gently 'sweep' across the cake, whilst the eye artfully judges when there's just enough zhushing for the appearance of casual finesse before the point of being over worked.
Must go dear badlybehaved, time has run out, panic set in, pyjamas still on and they'll be here in 10 minutes!!!!!!
Happy joojing x
Bex aka The Cupcake Mistress     www.facebook.com/deliciousaffair