First – a bit about Sam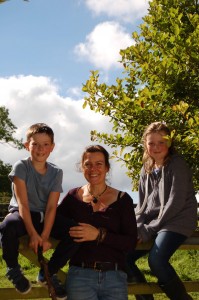 Sam Gray works a five acre plot in the heart of Shropshire where she keeps British Lop pigs, rare breed chickens, Soay sheep and grows a lot of her own fruit and veg.  A published writer and author of 'Doing it in Wellies' about her first years on the farm, she is becoming well known for her work as an enthusiastic and knowledgeable give-it-a go lady farmer. In this first of a series of blogposts for us she provides an insight into the seasonal changes taking place on her farm.
Most early mornings and again in the afternoon the telephone wires that connect us to the outside world start to swing under the weight of massing swallows.  As I write this I am indeed watching them preen themselves on the lines outside my office, chatting away to each other as they build up strength for the long journey south.
As the days get cooler and shorter it strikes me that the gap between one autumn and the next is exactly long enough for us to appreciate and enjoy the seasonal changes in between.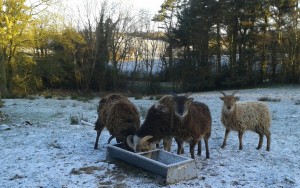 Outside in the garden, piled high somewhere near the ever growing bonfire area, is enough coppiced willow to keep me in kindling for the entire winter ahead. As the 3ft nettles that engulf these weathered sticks start to die back, it is a reminder that the daily routine of fire lighting is not far away. Similarly, the choice of garden tools is changing; from hoes to forks, secateurs to chainsaws and mowers to hedge cutters. My Soay lambs are not far off adult size, the chickens have started moulting in preparation for new winter warm feathers and the piglets shown at Shrewsbury Food Festival are rapidly approaching pork weight.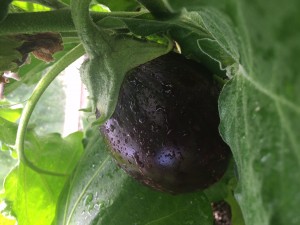 Inside the house, my kitchen work surface has often been unrecognisable under a mountain of multi-coloured and multi-shaped home-grown tomatoes, aubergine still with the thorns on, stripy courgettes, balls of beetroot, dirty potatoes, carrots, the last beans, semi dried onions and garlic.  The oven is permanently on and full of roasting veg ready to be added to dips and sauces while the hob plates are regularly bubbling with various soups.
While work outside is far from over, it's the hard graft in the kitchen now that prepares us for a well-nourished winter.
I've never actually witnessed the mass exodus of swallows but there is always an overwhelming silence when their clicking sound stops. As far as I'm concerned it doesn't matter what the diary says, the last day of summer is the day they leave and the same day that autumn takes over.
You can find out more about Sam's book at www.givingitupforwellies.com or her holiday cottages at www.middlefarmcottages.co.uk. Sam's also on twitter @middlefarm1 and Instagram: Givingitupforwellies