Our kitchen is so loud. It is where we all work, play, cook and do our thing. Over the last few days this room has also become our office. The table has turned into a humming, heaving mess of computers, pens, papers and pencils as Anthony and I work on our new project.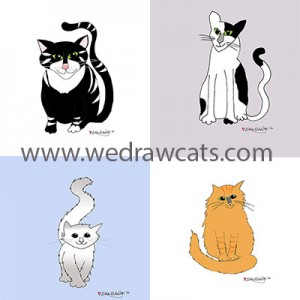 During all this I have had that nagging feeling of 'oh what am I doing as a parent to help the kids around education…?' it didn't feel like much. Then I noticed them looking over my shoulder, they threw in ideas, they picked up pens and started drawing, they asked about how it all worked. The girls took over our We Draw Cats Pinterest account and started filming our cats to set up a youtube channel.
They grabbed the tablet and took our cats portraits and I advised them to get the cats in the centre of the frame, as best as possible. They asked about Instagram, Twitter, Facebook, Etsy, they marvelled at how Fine Art America can seamlessly turn my illustrations into cushions, shower curtains and phone covers (I marvelled too).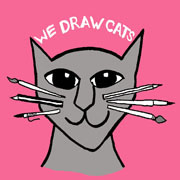 They made me draw a cute fluffy kitten, honestly they made me do it!
Then all went 'Aaaaahhh!! Mum that is a seller.' They asked questions about how it works, how this business works and Anthony and I answered as best we could.
Then I realised, this is it, this is learning.
I have had to give up a lot around what I think learning should look like and at those moments when the scripted part of me is saying, I am doing nothing to teach/help them, I realise this is it, they are learning loads. Learning how the internet works. Learning how to create their own businesses. Learning that sometimes you have to commit hours to something, learning that when you find yourself laughing and loving what you are doing you are probably on to a good thing.
It is nothing like how my education looked but this is learning, this is unschooling, this is life…
And by the way the super illustration to the left of the page is done by our son, it is of a cat robot and a cat with a ball of string and here is the new business website we are proud to announce together www.wedrawcats.com
Lehla Eldridge writes at www.unschoolingthekids.com 
and is also a writer and  illustrator and runs online courses at www.lehlaeldridge.com