Mental health campaigner, Amber (aka Budget Jones) follows up her last blog for us by writing about the trials, tribulations and eventual successes of organising a family get together on a budget…
As a Jones, it may not surprise you that I have a rather large family (my dad alone has 29 first cousins). So when one of our lot had a Significant Birthday a couple of weeks ago, there were rather a lot of people to pull together.
Lists about lists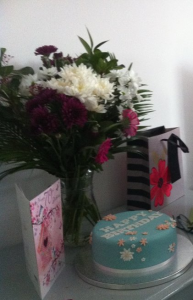 It all started with an email from my eldest sibling telling me about which family members would be coming to said Significant Birthday. A meal out was suggested, and the restaurant would be selected and booked by elder Sibling, in their capacity of Knows Where Food is Good and did I mention, is The Eldest?
Unfortunately, a meal out was not what the Significant Birthday person had in mind at all. So thus followed three weeks of communicating, not communicating, and various assorted assumption making about what the other one was thinking .. until we finally reached a compromise. In the end despite much dithering over who would and wouldn't be attending, most showed up and the Family Unit was complete.
Sibling sabotage and subterfuge
I'm not entirely sure why my siblings and I still compete with each other. As I'm the youngest, I could probably get away with having a big strop about everything (in their eyes). (That would be letting them win, though, wouldn't it?)
My oldest siblings live 150 miles away, so organising fell into the hands of my closest-in-age sibling and I. Prior to the Big Day, the continued comments of "It's not feasible" and "I will sort out booking a restaurant" received over several curt emails affected me to the point where I considered giving up entirely.
Aunties are awesome
Whilst all of this was going on my aunties were an invaluable source of support via phone and email. They left me alone to sort out the majority of the organising and accepted their delegated tasks with humour and calm grace, turned up, made teas and coffees, washed up as we went along and made sure everyone was thoroughly fed.
Nieces and nephews rock
One thing I have noticed about my nieces and nephews (the grown-up ones as well as the small ones – told you it was a big family) is that they like being given choices. My niece-in-law had a list which she then divided up into four to delegate within her own family. The little ones were delighted that they were helping plan this party and felt very Grown Up to be entrusted with their own little lists.
My nephew who is currently travelling around Australia calmed me down via email around his intermittent access to wi-fi. Additionally, my nieces in Worcester, who couldn't travel down due to work and family commitments, told me everything would be fine and just to get on with things in my own way.
Onto menu making
I had a spreadsheet for all the food – I'm geeky like that – and kept an eye on the costings.
I managed to overfeed 20 people and still have freezable party food left over for the princely sum of £5 per head. Had I kept more of an eye on the final numbers, I probably could have got the cost down even further. We had:
Vegetable lasagne and garlic bread
Spicy beef casserole
Chilli con carne with rice
Chicken curry with naan breads and rice
Roasted vegetables
Three different kinds of homemade soup
Build-your-own salad selection with raw vegetables, mixed leaves, rice and pasta
Jacket potatoes
It seems like a lot, and the table was groaning, but everyone got fed, and I got to live on party food for the next couple of weeks!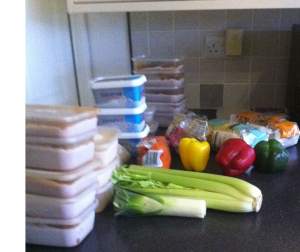 Through buying ingredients from a variety of places, and avoiding expensive extras, we all got fed, and had really good fun. The oven went on at 7:00am and I didn't get to sit down until 5:30pm, but it was a wonderful day and "surpassed all expectations", apparently.
P.S. We ordered the cake. My cooking doesn't involve a lot of measuring or timing, so that was one potential stress that was removed from the day.
Maybe I should have taken the balloons down by now, but they are so pretty.
If you'd like to tell me your story or share your ideas for how to make things better, or you're having a bad day and would like to say hello, I'd love to hear from you. Come and join me on twitter @KnittingYogurt