Intrepid trainee gardener Luke Keeno writes for us about his rather exciting (and equally slightly terrifying) project to create a beautiful flowerbed for Bristol Victoria Park this year.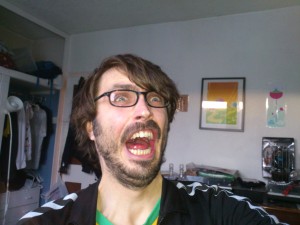 Do you ever find yourself in a situation where you ask yourself "Oh my god, what have I agreed to do? I'll never be able to do that, I'm in way over my head! Am I mad?"
Am I? Maybe, but it seems to me like small moments of madness (or "creativity" perhaps?) are all good. It's lovely being comfy and cosy and doing the routine day-to-day stuff (not quite a "rut", more a gentle furrow in the carpet) but every now and again, to get yourself closer to your hopes and dreams, you throw yourself into a mad situation. This could be kayaking down a white water rapid, or popping whatever was just put in your hand into your mouth, or asking someone if they might perhaps want to go for a drink, or something…?
Let's face it, terror is very life affirming. Afterwards.
So I'm currently wondering how I got myself into this new situation (roughly every hour), but it's great because I haven't agreed for example to perform open heart surgery or to have a child or anything important like that. No, the consequences of failure here aren't terrible at all and if it goes right it'll be totally brilliant!
My current 'mad situation' is this: after 6 or 7 years light gardening in my little rented garden, I've wangled it so that I now have permission from the Victoria Park Action Group & the Bristol Council to go Hog Wild in 150m2 of prime, hilltop park flower bed in the heart of this fair city, and create something beautiful for everyone to enjoy. Which is a pretty open ended brief really and that suits me down to the ground, no competitive targets to hit there, no absolute deadlines. Just make something nice.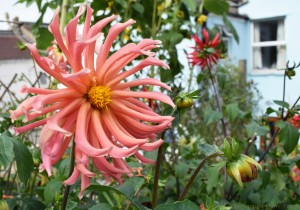 Now the 'Butterfly Bed' which I've been granted access to, was created years ago by awesome volunteers to bring colour and wildlife into the park, but as time has ambled along, it's slowly gone feral and needs some TLC (Total Luke Control?)  And what an utterly enviable position for a Professional-Gardener-In-Training to be in (I'm currently studying the RHS Lvl 2 Horticulture course to become 'gooder at gardenings' ) Of course, I know that if wasn't for this austerity bullshit (really, there's no money about? Are you sure, where did it go? They've got billions of money over there and there and they have too!) – I wouldn't be allowed within 100 yards of an inner city park's flowerbed. But now there's no money for that sort of stuff, so it's time for plucky volunteers like me to get involved.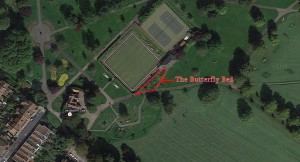 So my plans?
Well, after measuring it all up, working out what was there and should stay and what should go (cheers to Tim Forster for his advice here) I set about getting some seeds to grow in it. Everyone in the Park Action Group were keen for community involvement, so I asked for donations and got LOADS! Here's a list
Next Step: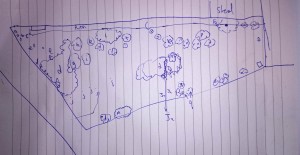 Create a proper plan of the bed, use the flowers as the paints and the bed as the canvas and get artistic!  However, as I don't consider myself to be a designer, this plan is taking longer and longer and longer to complete and may well end up in April as "Chuck them all in, some here some there, see what works" Still, as long as it's colourful, we're ahead of the game.

Other jobs to get this project from 'Pipe Dream' to 'Dream Come True' include:
Design the projects logo
Finish making the noticeboard (To thank people who have helped and advertise upcoming events)
Sorting out delivery of compost – surprisingly complex considering I don't have a car. Can't really put 1m3 of compost in my panniers!
Arranging the placing of mini greenhouses in nice safe sunny spots around the park where I can sow the seeds, and grow all the gorgeous flowers
Write a blog and make fun films so people can get excited, involved, entertained and so I can remember what the hell I've been doing with my days (an element of ego massage may be included in this section of the project
And of course, preparing the flowerbed! Digging over the soil and removing the inevitable broken glass, stones and weeds. Oh God the WEEDS!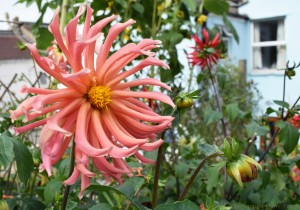 Now every job begets another which begets another etc but that's grand, because it's how you learn. At the end of the day, you can't let the bad guys win. Which bad guys? Take your pick. I'm particularly fond of overcoming my own sods, Mr Self Doubt, Lenny Laziness, Sir Algernon Borderline–Agoraphobia,  you know the types. And there's plenty of other bad guys out there trying to wreck my head, real ones with ham faces, that sort of guff you know?
But a bit (lot) of gardening should sort that out and I can feel good about sharing my love of flowers.
Keeno is a DJ, Comedian, hippie, lover not fighter, cat slave, silly sausage, uncle, Bristolaphile, photoshopper, Japan freak, trainee gardener. Find out more about his project here or follow him on twitter @keenogrows