In the few years since Arthur's diagnosis (he's nearly 7) my family and I have been through a lot with our youngest son and found that like most (if not all) non neuro-typical children, he is happiest outside. Actually he's a charmingly happy little boy most of the time anyway, but he's utterly in his element when either walking or doing things in the open air.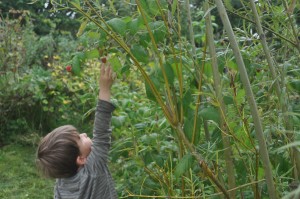 Over time the garden has become a bit like an open sensory room only better with crunchy gravel and slate pathways that make a delightful sound when you walk along them, tons of wildlife and many, many sounds, smells and sensory appealing details and areas to explore besides. When we've had people over and Arthur's had a meltdown – the garden is where we've gone and he is almost instantly calmed. In the early days when getting him to eat much of a healthy nature was often tricky, a little forage in the garden worked wonders. It made the process of eating more interesting to him and meant that now (thankfully) he continues to eat a wide range of fruit and vegetables.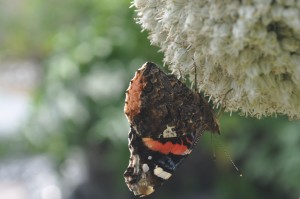 Of course anyone who gardens knows how good it can make you feel. Whether you're a bit tired, have had a stressful day at work, an argument or are dealing with serious depression or heartbreaking loss, I've heard time and time again from people how powerfully healing the process of gardening can be. It enables us to take time out from the constant busyness, noise and over-stimulation of the 24/7 modern world and just be. It's no wonder then that those on the spectrum benefit greatly from any time spent in the great outdoors.
Sarah Wild is the Head teacher at Limpsfield Grange School  in Surrey, whose inspirational work was showcased in an ITV documentary 'Girls with Autism'  last year. She told me; "being outside is of enormous benefit for the girls, it really helps them to process their feelings and emotionally regulate. We also added outdoor learning on our curriculum for Year 7s this year which has been very successful, teaching the girls about the trees and wildlife in the grounds of the Grange and in our local area. For many of our girls working with animals or horticulture is a possible employment route too."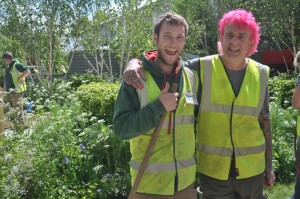 I also believe that gardening has the potential to empower those with autism – to build confidence that will flow into other areas of their lives no matter where they lie on the spectrum. So often a diagnosis brings with it a negative perception which can be disheartening and all the more reason why building ability and therefore greater resilience is key.
You only have to look at the higher-functioning young people that Alan Gardner worked with on Channel 4's The Autistic Gardener  and how they blossomed and developed (because they were listened to and given opportunities), to get a taste for the potential that lies therein. For Alan his Aspergers gives him a unique eye for design and sequential detail, along with a fantastic drive to be the best that has helped him become the highly sucessful, award winning garden designer he is today. As he says; "gardening isn't a lesser career, it's an amazing thing to do."
The Royal Horticultural Society (RHS) Flower Shows will be showcasing ways to optimise green spaces for people with autism this year.  In particular Shea O'Neill's, 'ACE kids: Spectrum of Genius'2 garden at Tatton Park in July will demonstrate ways to adapt gardens and parks for those on the spectrum. Including adding calming scents such as roses, elderflower and jasmine, making sure planting is non-toxic and creating interest and areas for both calm and educational stimulation.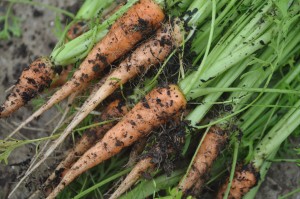 The landscape designer has an 11-year old autistic son and says she has found gardening to be one of the simplest but most effective ways of helping him. Shea said: "For my boy, gardening has been life-changing and I can't recommend it enough to anybody who lives or works with people with autism. Eoghan wasn't a happy little boy, but being in the garden brings him peace and he has been transformed as a result of it."
As my youngest son learns bit by bit to cope with the world and all that is expected of him, to find his voice and make himself heard, the garden remains a haven. Having a non neuro typical child has taught us so many things. Entering his world to bring him more into ours has been challenging but ultimately it has enriched our lives immensely. I've fully embraced all things autism so much so that I'm in the process of setting up a social enterprise that will offer therepeutic (and empowering) gardening experiences to a range of people, including autistic young people and adults.
One thing's for sure our future will not be normal – it will be a veritible rainbow of vibrant difference instead and all the better for it.
This article first appeared on the Guardian website.